Stay Up to Date
Receive Bicycle Friendly America news delivered straight to your inbox every other week.
Subscribe by RSS
"Lost Cyclist" Author Found in Arlington, Va.
UPDATE:  It was a great event -- if you missed it, or want to hear more, you can read about it and listen to excerpts at the Examiner.com or listen to David's July 1 interview with NPR's On Point.  The Examiner post includes a link to this YouTube video featuring photos of Frank Lenz and audio of David discussing the book.
-- Original Post --
Calling all D.C.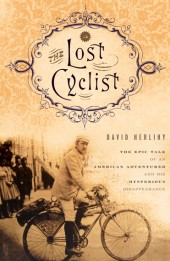 Metro bicycle enthusiasts! The League and Revolution Cycles are hosting The Lost Cyclist author David Herlihy for a reading and book signing event. Herlihy is one of cycling's most revered researchers and author of the encyclopedic Bicycle: A History which definitively settled who invented the bicycle. His newest book follows Frank Lenz, a nineteenth-century bicycle adventurer, on his trip around the world – well, it follows him until his mysterious, unsolved disappearance. Look out for more about Herlihy and The Lost Cyclist in Amazon.com's "June's Best," in the New York Times Review of Books, and on NPR.
Herlihy will be around to answer all of your historical bicycling questions, sign your books, and to tell you more about  Lenz and his adventures with a short reading. The League will provide the snacks and drinks (and books for purchase) --- you just have to show up! The event is June 30, 2010 at Revolution Cycles in Arlington (2731 Wilson Boulevard). The reception starts at 6:30 p.m., and the reading will start at 7 p.m. Please join us! Revolution Cycles is easily accessible by bike or metro (Clarendon stop on the Orange line).
If you have questions about the event, the League or David Herlihy, e-mail Scott Williams or call 202-822-1333.